8 de November de 2019 / Competition Routes
Ibiza coastal ride mountain bike tour
We suggest that you complete the Ibiza tour on mountain bike with its approximately 200km of coast surrounded by beaches and coves of turquoise water. It is a one of a kind route around one of the prettiest islands in the Mediterranean
It goes through a calf-busting circuit with all types of terrain, (segments of technical coast, trails, wide roads, narrow paths and segments of highway) a demanding terrain in some segments which is appropriate for medium to high level cyclists. According to the level of he participants it can be done in 4 stages.
The route is divided into 3 stages: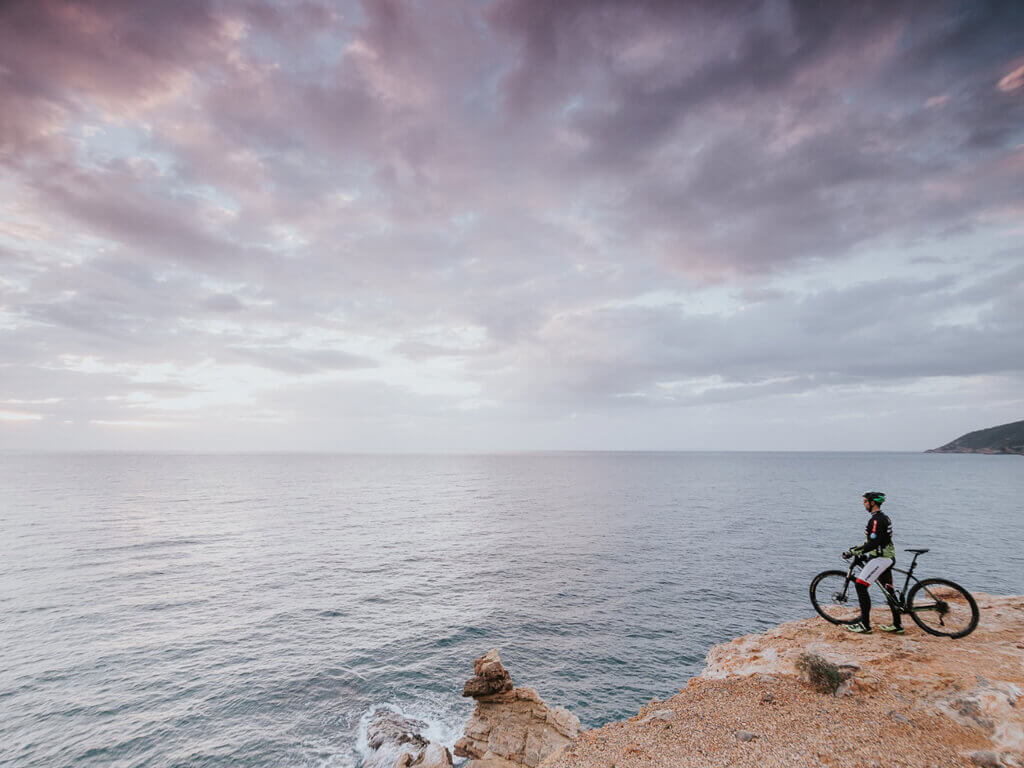 Stage 1: Ibiza-Sant Vicent de Sa Cala
This stage starts right from the Ibiza castle passing by the southern zone headed east. The greatest technical difficulty of this stage is concentrated in the first section, passing through small coves such as S´Estanyol, Cala Espart until arriving at Santa Eulalia del Río where the most technical zone ends and the beach zones begin such as Cala Nova, Cala Leña, Cala Boix, arriving at the furthest eastern point of the island "Pou de Lleó" and then heading towards the final stage in Cala Sant Vicent, an ideal enclave which was once the most isolated zone of the island.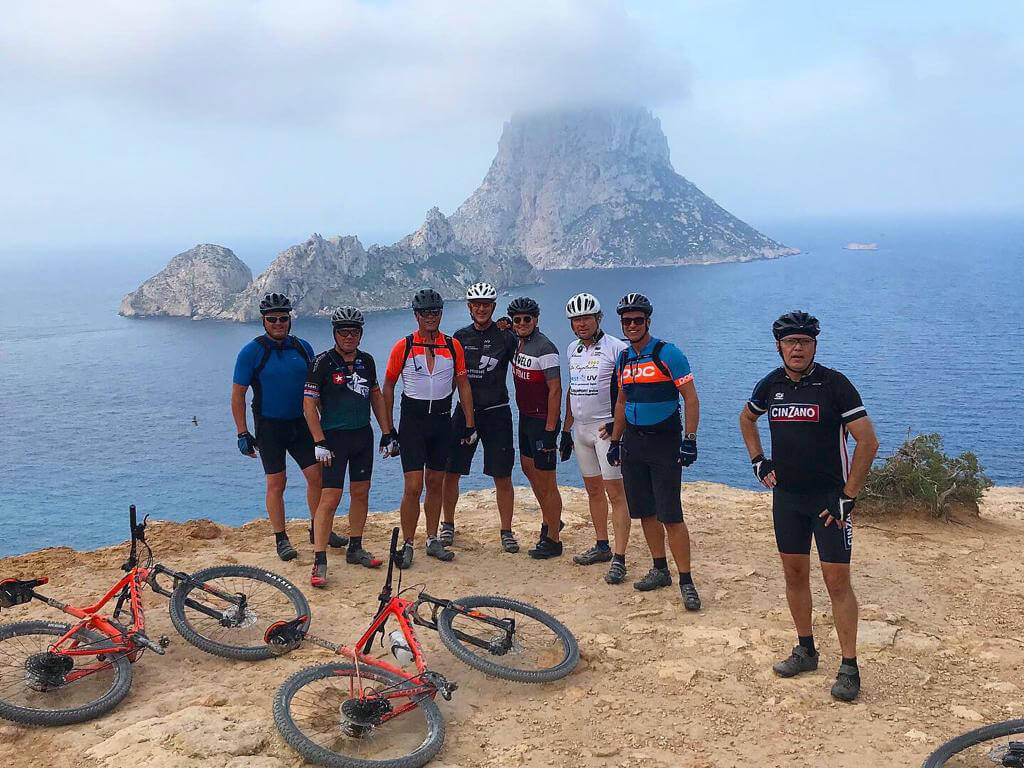 Stage 2: Sant Vicent de sa Cala-Sant Antoni de Portmany.
We start what we could call, the queen stage, which passes by the northern coast. It is a constant uphill and downhill where we find the most authentic and unpopulated coves and cliffs of the island, passing by—among other places-(Portinatx, Cala Xarraca, Benirrás, Puerto de Sant Miguel, es Camp Vell, las Puertas del cielo y la preciosa Cala Salada) until arriving at Sant Antoni de Portmany, the second most populated city of Ibiza, where we end this stage. Situated towards the west, it has a beautiful bay and the best sunset on the island.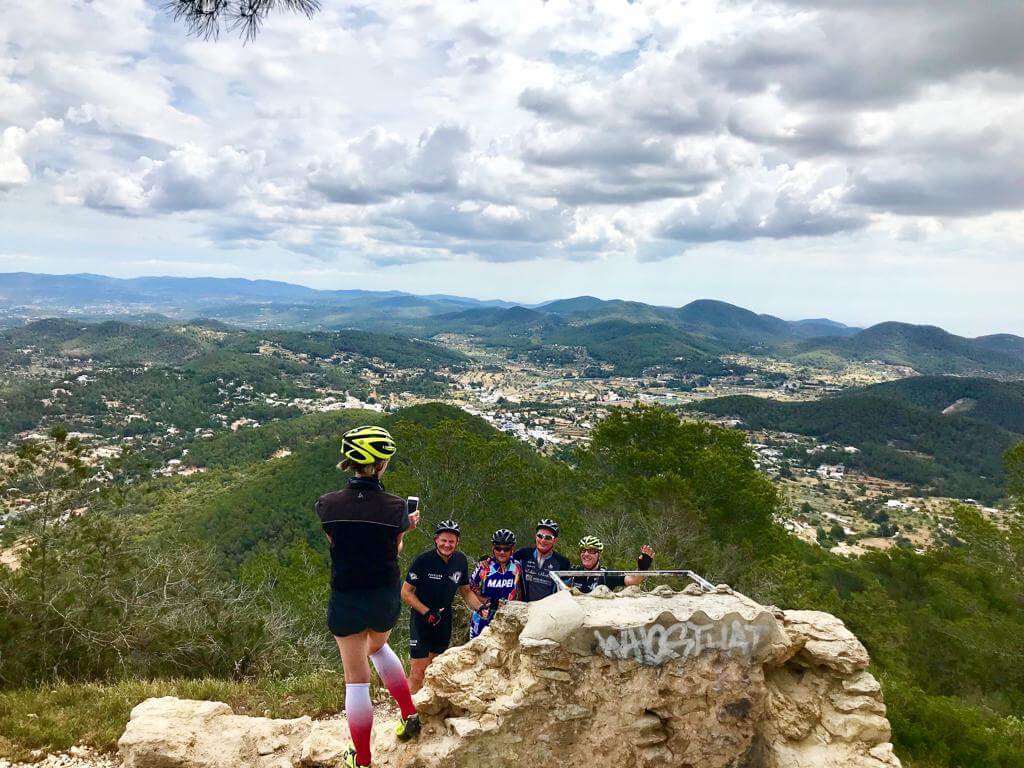 Stage 3: Sant Antoni de Portmany-Ibiza
In this last stage, we head from the Sant Antoni bay towards the western coast, where one can find some of the best, and most famous coves on the island such as: Cala Bassa and Platjes de Comte, which are made up of a group of coves of turquoise water and spectacular sunsets. We also pass by Tarida cove and Cala Vedella, in order to make an unmissable stop in one of the lookouts nearest to the island of "Es Vedrà", one of the most iconic and magical places on the island of Ibiza.
We follow the path of "es Cubells" and Cala Jondal, in order to make our way towards the last part of this stage, a flat zone, in the direction of the natural part of las Salinas, the southernmost zone of the island. There, we will find the Es Cavallet and las Salinas beaches and take on the last kilometers until we arrive at the Ibiza castle again and complete the Ibiza tour on mountain bike around the coast.