13 de December de 2021 / Bikes Routes
eBike enduro routes on the Ibiza trails
If you are an adventurous person or like to enjoy new experiences, get to know Ibiza with an Enduro route where you will enjoy its many trails.
With an Enduro eBike you will cross the trails of Ibiza observing them with a different perspective.
Enduro routes are a different and exciting way to get to know Ibiza, so whether you practice it frequently or looking for new emotions do not hesitate to try several routes along the trails, where you will find very exciting bike trials and technical sections.
What is Enduro and why you should do Enduro routes?
The enduro is a sporting discipline that looks a lot like the All Mountain, although with greater competition and/or commitment. It combines trail strength with downhill technique. It is perfect for lovers of p sensations and for those looking to go to the limit, that are able to make transitions on the bike and especially on the climbs.
Enduro bikes are designed to make steep descents, as they have wide-travel suspensions and telescopic seatposts to adapt to pedaling in different situations.
If you want to make routes on trails and mountain paths with wide slopes and jumps, you will love this discipline.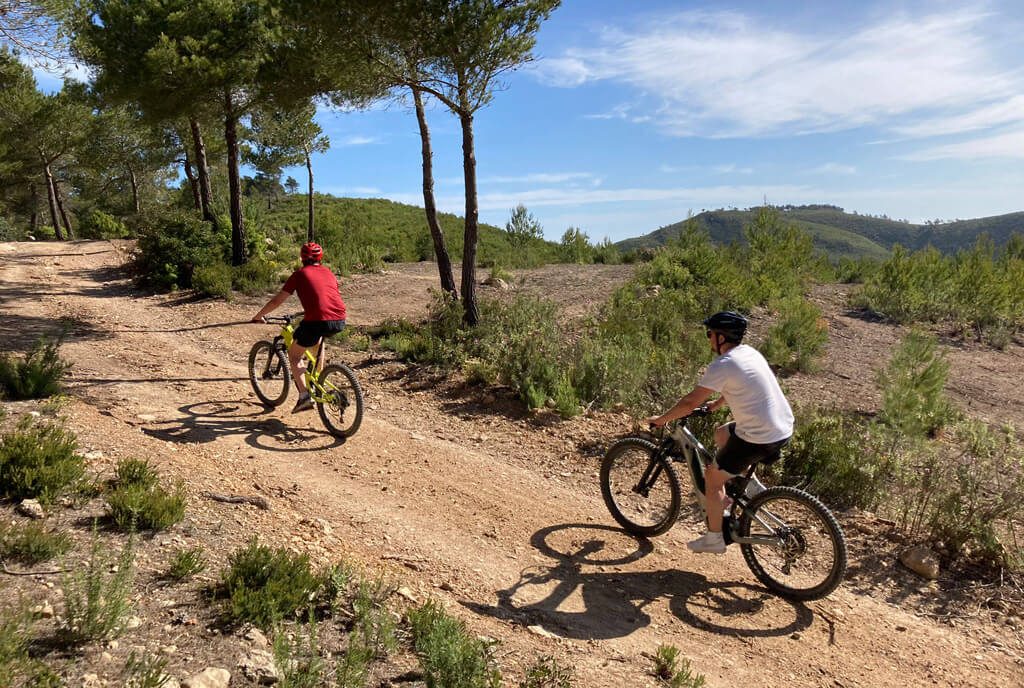 Why should you do an Enduro route in Ibiza?
Because its a beautiful island, youll know its beautiful landscapes.
Because you will connect with nature and disconnect from your daily routine.
Because it will allow you to free yourself from tensions and stress.
Because there are routes adapted to your physique and level of technique.
Because you can discover your own routes and participate in organized routes.
Because sport has many health benefits.
Because youll have an unforgettable day.
Because its a different and rewarding activity.
Because you love Enduro.
Experience the adrenaline rush of Enduro racing in Ibiza
If you like the mountain bike with very technical tours with great jumps that help shoot your adrenaline, go for Enduro.
It is a sport that has gained great popularity on the island, as in the rest of the world, for the possibilities offered by its terrains.
We must highlight something important about Enduro routes and that is that although you have to face a steep mountain terrain, jumping is a sport accessible for professionals but also for beginners. In fact, there are many beginner-specific routes.
Ibiza ebike routes
On the island there are multiple technical areas to practice Enduro, despite being a smaller site compared to others it has a lot of trails in which we highlight its vegetation, zones and beautiful views.
More and more tourists are approaching Ibiza to tour its lands looking for Enduro trials. They want to enjoy the landscape in a much more impressive way by playing an outdoor sport.
In Cala San Vicente there is an Enduro Ibiza bike route which is circular with about 15 km that is characterized by its difficulty, which can be practiced perfectly with an ebike with pedal help.
Another circular route of 26 km with high difficulty is the one that passes through Santa Gertrudis, San Lorenzo, Talaia de San José, San Agustín, El Infierno, Portinatx, Cala San Vicente, Puerto de San Miguel, Na Xamena, or Santa Eulalia, where you will travel through different areas of the island contemplating its beautiful landscapes with the adrenaline of cycling through its lands.
These are just a few of the routes and trails that you can find on an island that, despite being small, offers you many possibilities for sports activity.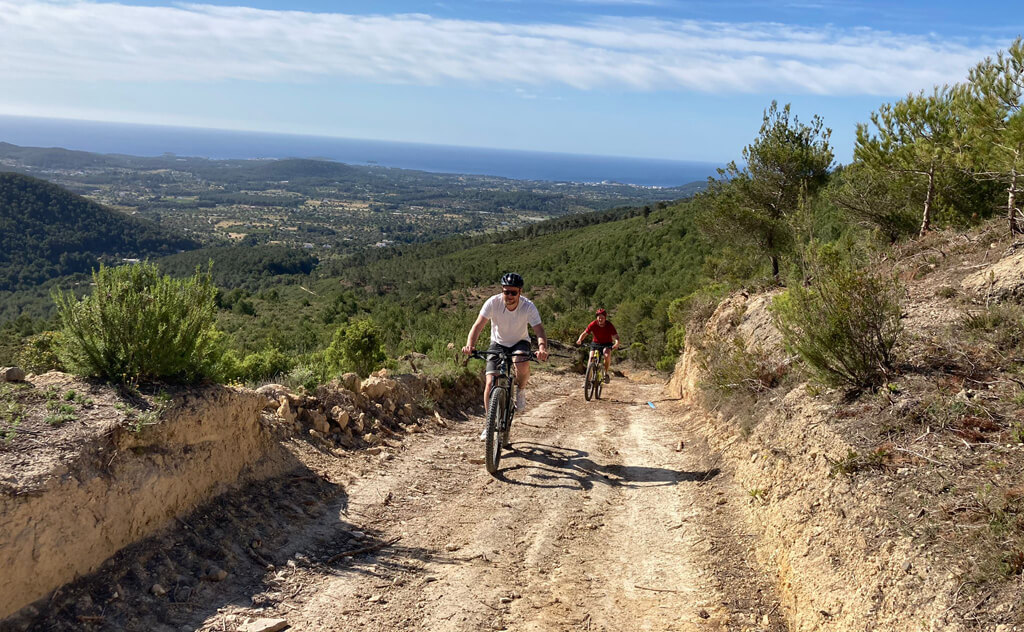 Enduro technical routes in Ibiza
One of the main peculiarities of the routes that you can enjoy with an Enduro electric bike is that you will find technical trails, since these routes are characterized by being more demanding.
Ibiza Bike Tours offers you a rental of the Enduro electric bike of your choice to solve any obstacle in it. Would you dare to try them?
What is the best Enduro bike in Ibiza?
We have 2 models of eBike, the Santa Cruz Heckler and the Cannondale Moterra NEO. Both have a robust and hard double suspension, made of aluminum or carbon. Its front travel is between 150 mm and 185 mm.
The suspension can be locked for the steepest climbs. It has a 12-speed gearbox and powerful brake discs.
We advise you on which may be the best enduro bike for you if you want to rent one for your routes on the island.