15 de juli de 2020 / Routes
Cycling routes in Ibiza: this is the best time to get to know it
It is the best time to go through some bike routes in Ibiza, when due to COVID-19 there are no crowds and you can enjoy the solitude.
Have you ever thought about going through somebiking routes in Ibiza? It is a wonderful island which grants you the opportunity to get to know it during this time, when there are no crowds and you can enjoy it with more intensity.Solitude and silence will become the perfect allies to immerse in the magic of each region.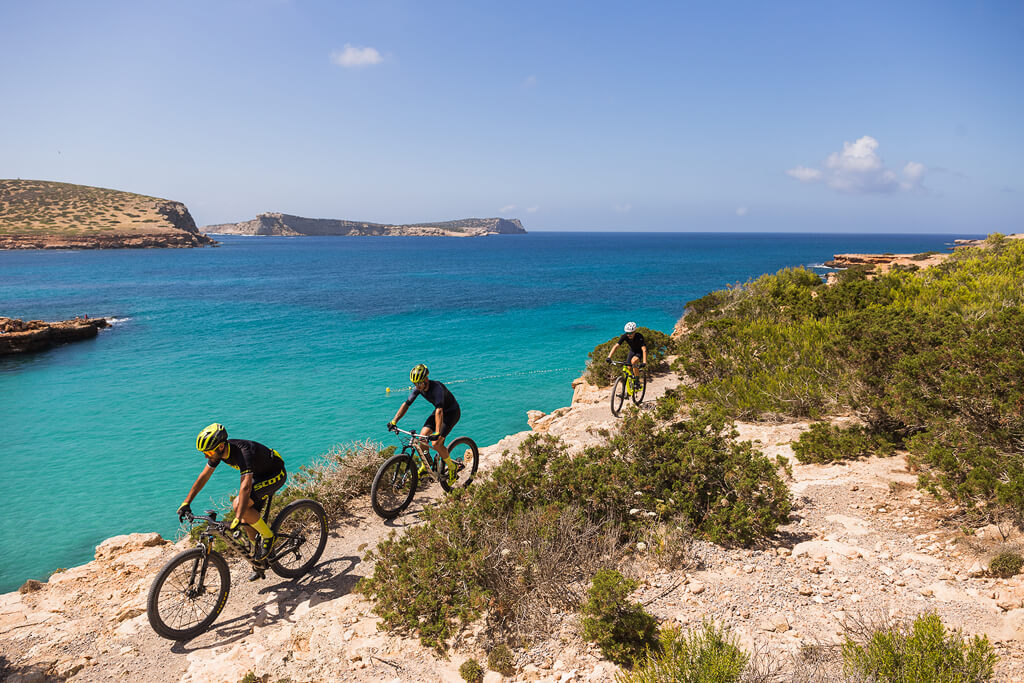 COVID-19 and sports: the best routes to forget about the pandemic
Ibiza is a World Heritage Site thanks to its natural and cultural richness. Now, you can taste this experiencewith no hurries and at your own pace. Cycle tourism in mountain bike is an adventure in which you will discover that COVID-19 and sports get along.
You have the advantage that we offer bikes in perfect condition and with different pedal options. The routes are guided, with an excellent client service and, in addition to provide an insurance, we also provide you with the complete equipment which also includes a repair kit.
Salinas – Es Codolar
The biodiversity of the island has its best expression in the natural park Las Salinas, where you can visit the beaches of Es Cavallet, Las Salinas and Es Codolar, the most extense of Ibiza. We recommend this route, as you will discover amazing landscapes. Among them, the presence of torres Ses Portes and Carregador are highlighted. You can cover its 20 kilometers in about two and a half hours.
On the other hand, we cannot forget its inner route. In this case, the road starts from the town of San Rafael and also passes through San Mateo and Santa Gertrudis. The views are beautiful, especially, you will enjoy those in the Es Broll aquifer. The distance is 30 kilometers with gentle slopes, so you can complete it in three hours.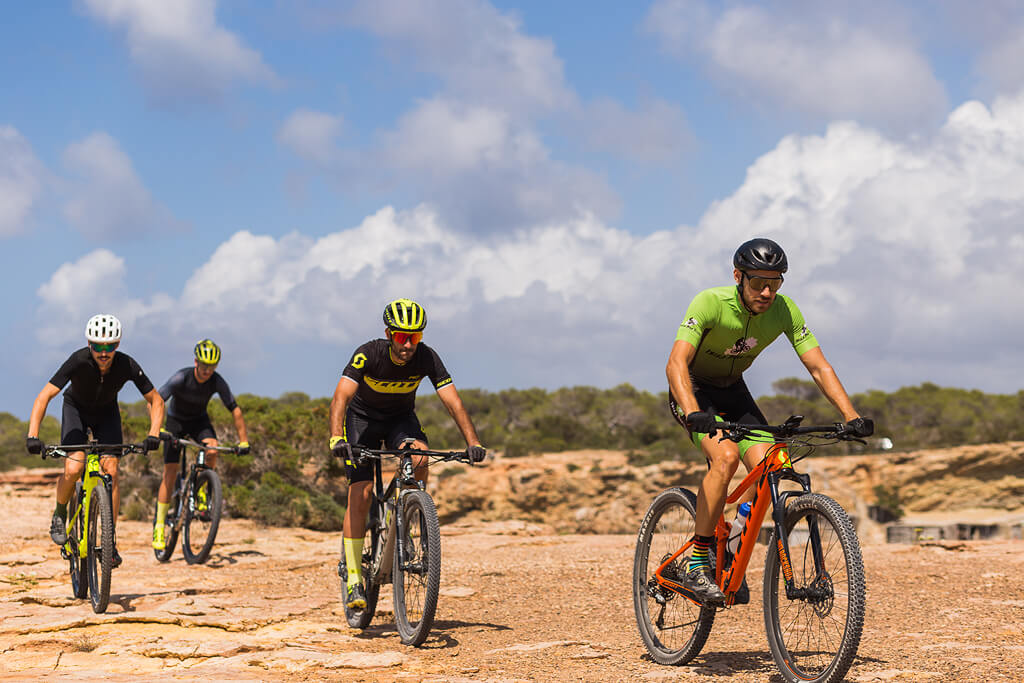 One of the best post-COVID-19 routes: Costa Sunset:
A little more difficult than the previous ones, you will find a 350-meter slope on a 30-kilometre round trip. You will start it in the bay of San Antonio and the road will take you to the town of San Agustin. You will seeCala Bassa and Cala Conta, with crystal clear waters and dazzling sunsets, before returning to the starting point after two and a half hours.
Serra Grossa – Sa Talaia
With amedium to high difficulty, this route is suitable for cyclists with some experience. The slope is about 1000 meters, as you will ascend to the highest mountain of the island, Sa Talaia, where you will be able to enjoy fantastic views and see Formentera. In about 3 hours you will travel 55 kilometers from the town of San Rafael.
San Lorenzo
This is one of the easiest and most beautiful post-COVID-19 routes that you can do. The slope is low, just 80 meters, which will allow you to concentrate on admiring the landscapes. The starting point is Santa Eulalia, a beautiful village, and the trail will take you through fields and meadows to San Lorenzo, from where you will start your return. You´ll complete the 20 kilometers in two hours.
In conclusion, we advise you to make one of these biking routes through Ibiza during this time. You will feel as a pioneer and as the owner of the island, a very special opportunity that may only be possible at this time.